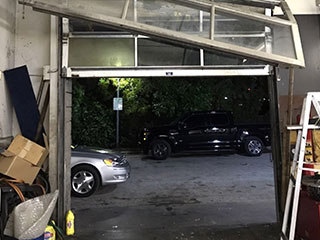 Automatic openers are supposed to make our lives safer and more convenient, which they do well for the most part. But the biggest problem with any electronic equipment is that they obviously require power to operate even slightly. For this reason, a power outage can be extremely disruptive - if you've yet to get a backup system and you find yourself unable to open or close your door, there is something you can do. Read on to learn more!
Operating Your Door During A Power Fail

When the power fails and the candles come out, there is no reason to believe you are stuck in (or out) of your garage if there is no power. Luckily, opener manufacturers have thought of this scenario - every brand and model should come with a manual override switch which can be toggled to allow your door to be opened the good old fashioned way, by hand! The switch can typically be found attached to, or near the garage door trolley. Pulling this downward will release your system from the control of the motor and let you open it yourself.

Backup Batteries And Capacitators

To be prepared for the next power outage, it's a good idea to install a backup battery. These handy additions will charge to capacity when there is power, storing it and kicking into action in the event that it's needed. This way, if the power should fail, your system will continue to operate for hours. This is particularly helpful for businesses where there is plenty of movement in and out of the premises, or where power outages cause unwanted delays.

Solar Power - Going Green

Going green seems to be the order of the day, and investing in solar panels to power your garage door could give you a range of benefits. Take your opener off the grid by hooking it up to your own personal solar panels and let the sun do the work for you. Coupling your panels with a capacitator will allow it to operate off solar power even at night, saving you power costs in the long run and eliminating the chance of it becoming inoperable during a power outage. We think this is the way of the future!