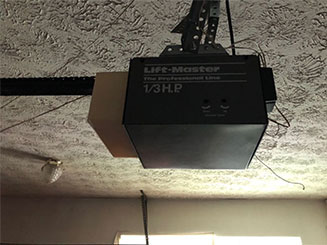 One of the most important parts of your garage door system is the opener. It's this unit that's responsible for powering the movement of the mechanism as well as for checking when it's safe to open or close the door, which is why it needs to work smoothly and reliably day after day. Few homeowners think about their motor unit when it's working well; it's only when it starts to rattle, squeal or stops working completely that they start paying it any attention. Our technicians are experts at resolving problems with malfunctioning openers, and we will be able to quickly arrange a solution for any type of issue you may experience.
Malfunctioning Opener Repair
There are many different ways that an opener can malfunction, from circuit board failures to broken drive gears. Because we work with all the major manufacturers we can quickly replace faulty parts. We're also able to adjust safety sensors, reprogram remote controls and even perform professional motor repairs when a broken or worn gear is responsible for the problem. Dealing with this electric motor can be complex, so it's the type of job best left to the experts and not something DIY enthusiasts should attempt.
Opener Installation Services
In many cases, the best upgrade for your garage is a new opener system. Modern units boast a wide range of technological advancements, from faster and quieter drive systems to WiFi and smartphone connectivity. The enhanced security and convenience that these models can bring is an excellent addition to any home, and we work with major brands like LiftMaster, Genie and Linear to provide our customers with the very best the market has to offer.
Choosing Your New Motor Unit
There are a huge number of different options available to you, which can be overwhelming at first. Our technicians will help you cut through the different choices, so you can decide whether you need a ½ HP or ¾ HP unit, a belt drive or a screw drive, and which additional features will be worth considering. Once you know what you want, our team will install it to our high professional standards, guaranteeing that it works perfectly from day one.
Comprehensive Opener Services
We can help you in any situation. Whether you need emergency motor repair or you're thinking of investing in a smart new opener model, our experts are ready and waiting to assist you. Contact Garage Door Repair Winter Garden today.
In addition, count on us for:

Bottom Seal Rubber

New Opener Remote Controls

Garage Door Cable Replacement

Garage Door Safety Inspections