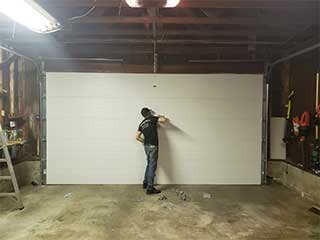 Our team at Garage Door Repair Winter Garden offers a range of comprehensive repair and replacement services that cover all brands and door types. Our experts have the skills and experience to get your door up and running again in no time and on the same day!
How We Work
We take our responsibility seriously - a non-functioning garage door can severely impact your daily routine. That's why our experts offer the utmost in professionalism and will do their best to find an appointment time that suits you.
Door Panel Replacement
A damaged panel can cause a number of issues, and may cosmetically ruin the appearance of your home. More importantly, worn panels that are left unchecked can create vulnerabilities in your door, allowing water to seep in, compromising your security, and potentially exposing your garage's contents to the elements. Our professionals can inspect the damage to your door and advise as to whether it can be repaired or whether it's a better idea to opt for a panel replacement.
Cable & Roller Problems
Your garage door uses a system of cables and rollers to operate smoothly. If one or more of them gets damaged, you may find it more difficult to open and close your door. In the worst case, the damage may be so extensive that the door ends up off-kilter. If you notice something that isn't right with one of these components, our experts can help - we have a stock of replacement parts and will be able to sort the problem in no time.
Same Day Services
You can't always count on your garage door malfunctions to occur at a convenient time! Sometimes, a problem will catch you off guard and you'll need someone fast. We can help you get the problem resolved as quickly as possible. If you find yourself suddenly unable to operate your door, tell us the problem is urgent when you get in touch and we'll have someone with you as soon as we can so you can get on with your day.
Our local team at Garage Door Repair Winter Garden are experts when it comes to these systems and can help you with a range of issues. So, if you're experiencing trouble with your garage door and don't know where to turn, get in touch with us today.
Looking for more? We also offer:

Torsion Spring Adjustment

Opener Clicker Repair

Track Replacement & Repair

Part Replacement & Repair